Reliance Industries
Reliance Industries Limited (RIL) is an Indian company headquartered in Mumbai, Maharashtra, India. Reliance owns businesses across India engaged in energy, petrochemicals, textiles, natural resources, retail, and telecommunications. Reliance is the largest publicly traded company in India by market capitalisation and the second largest company in India as measured by revenue after the government-controlled Indian Oil Corporation.
2. State Bank of India (SBI)
SBI is an Indian multinational, public sector banking and financial services company. It is a government-owned corporation with its headquarters in Mumbai, Maharashtra. The bank traces its ancestry to British India, through the Imperial Bank of India, to the founding, in 1806, of the Bank of Calcutta, making it the oldest commercial bank in the Indian subcontinent. Bank of Madras merged into the other two "presidency banks" in British India, Bank of Calcutta and Bank of Bombay, to form the Imperial Bank of India, which in turn became the State Bank of India in 1955.
3. HDFC Bank
HDFC (Housing Development Financial Corporation) Bank Limited is an Indian banking and financial services company headquartered in Mumbai, Maharashtra. It has 84,325 employees and has a presence in Bahrain, Hong Kong and Dubai. Its first corporate office and a full-service branch at Sandoz House, Worli were inaugurated by the then Union Finance Minister, Manmohan Singh.
4. Indian Oil
Indian Oil Corporation Limited (IOCL), commonly known as IndianOil is an Indian state-owned oil and gas company headquartered in New Delhi. It is the largest commercial enterprise in the country, with a net profit of INR 19,106 crore (USD 2,848 million) for the financial year 2016–17. IndianOil's business interests overlap the entire hydrocarbon value-chain, including refining, pipeline transportation, marketing of petroleum products, exploration and production of crude oil, natural gas and petrochemicals.
5. Tata Motors
Tata Motors Limited (formerly TELCO, short for Tata Engineering and Locomotive Company) headquartered in Mumbai, is an Indian multinational automotive manufacturing company and a member of the Tata Group. Its products include passenger cars, trucks, vans, coaches, buses, sports cars, construction equipment and military vehicles. Founded in 1945 as a manufacturer of locomotives, the company manufactured its first commercial vehicle in 1954 in a collaboration with Daimler-Benz AG, which ended in 1969. Tata Motors entered the passenger vehicle market in 1991 with the launch of the Tata Sierra, becoming the first Indian manufacturer to achieve the capability of developing a competitive indigenous automobile.
6. ICICI Bank
ICICI Bank stands for Industrial Credit and Investment Corporation of India, is an Indian multinational banking and financial services company headquartered in Mumbai, Maharashtra, India, with its registered office in Vadodara. In 2017, it is the third largest bank in India in terms of assets and third in term of market capitalisation. The bank has a network of 4,850 branches and 14,404 ATMs in India and has a presence in 19 countries including India.
7. Tata Consultancy Services (TCS)
Tata Consultancy Services Limited (TCS) is an Indian multinational information technology (IT) service, consulting and business solutions company. It is a subsidiary of the Tata Group and operates in 46 countries.  TCS Limited was founded in 1968 by a division of Tata Sons Limited. Its early contracts included punched card services to sister company TISCO (now Tata Steel), working on an Inter-Branch Reconciliation System for the Central Bank of India and providing bureau services to Unit Trust of India.
8. NTPC Limited
NTPC Ltd., formerly known as National Thermal Power Corporation Limited, is an Indian Public Sector Undertaking, engaged in the business of generation of electricity and allied activities. The headquarters of the company is situated in New Delhi. NTPC's core business is generation and sale of electricity to state-owned power distribution companies and State Electricity Boards in India. The company also undertakes consultancy and turnkey project contracts that involve engineering, project management, construction management and operation and management of power plants.
9. Axis Bank
Axis Bank Ltd is the third largest of the private-sector banks in India offering a comprehensive suite of financial products. The bank has its head office in Mumbai and Registered office in Ahmedabad. It has 3304 branches, 14,003 ATMs, and nine international offices. Axis Bank has the largest ATM network among private banks in India and it operates an ATM at one of the world's highest sites at Thegu, Sikkim at a height of 4,023 meters (13,200 ft) above sea level.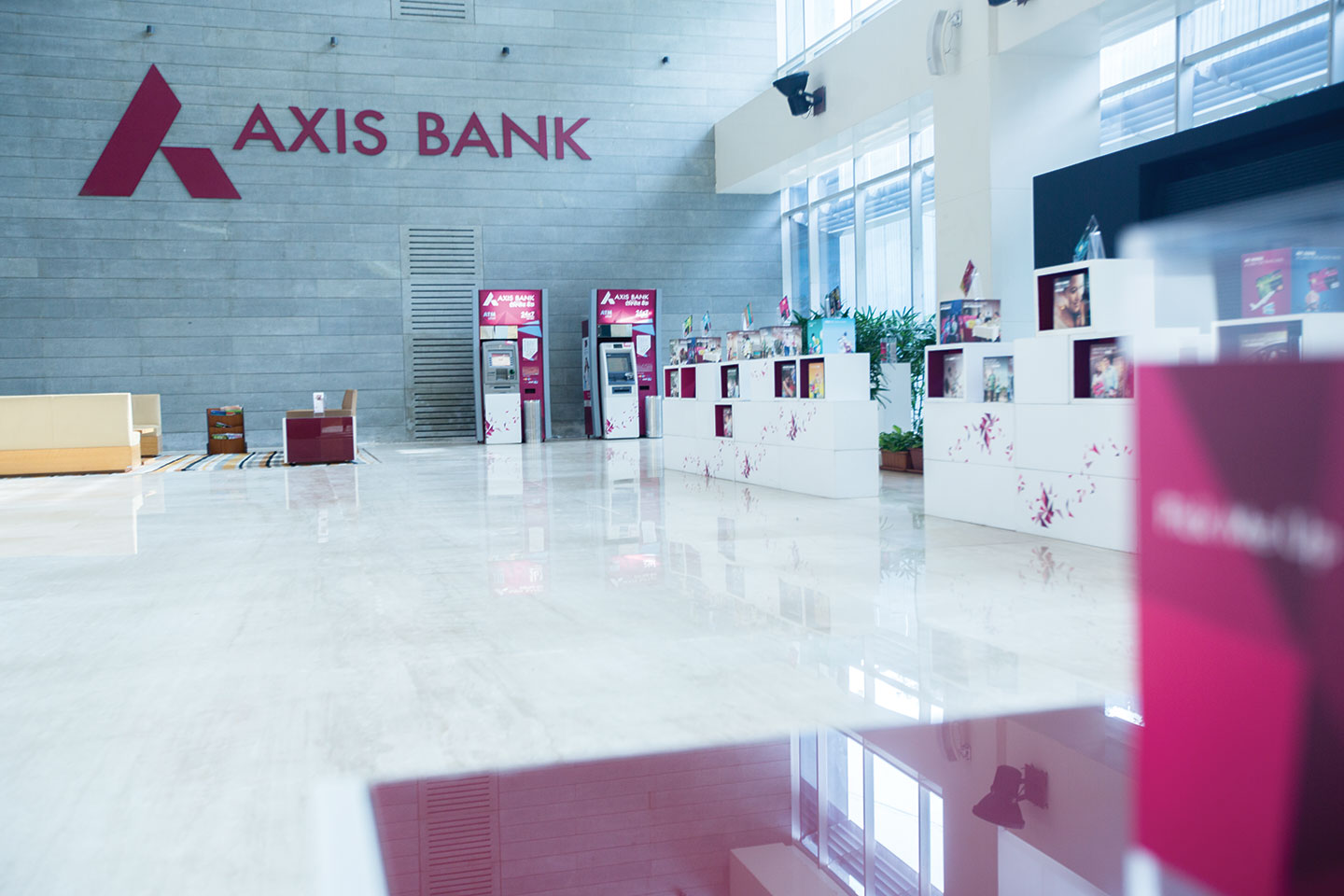 10. Larsen & Toubro
Larsen & Toubro, commonly known as L&T, is an Indian multinational conglomerate headquartered in Mumbai. With over 75 years of a strong, customer-focused approach and a continuous quest for the world-class quality, it was founded by two Danish engineers taking refuge in India. The company has business interests in engineering, construction, manufacturing goods, information technology, and financial services, and has offices worldwide.